First Time Home Buyer Seminar
Buying a home can be confusing for a first time buyer. We will give you a comprehensive understanding of home buying through our FREE & NO-OBLIGATION seminar.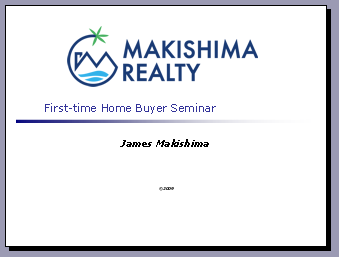 TOPICS COVERED:

1.) Timing: Is now a good time to buy a home?
2.) Location: Where should I buy?
3.) What are the differences between a house, condo, and townhouse?
4.) Renting vs. Owning: What are the benefits of owning?
5.) What are foreclosures? short sales? auctions?
6.) What is the buying process?
7.) What is the role of the real estate agent?
8.) Price: How much can I afford? What will my payment be?